Security Features
Doing more to
reduce the risk of fraud!
State-of-the-art Security Features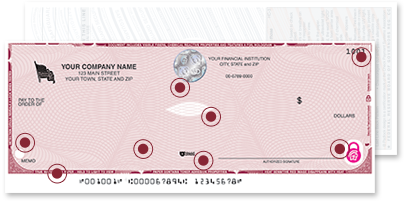 Paper checks continue to lead as the payment type most susceptible to fraudulent attacks.* You must take steps to proactively protect your business. The first step is to use high-security checks. Checks should include at least 10 security features.

Premium Secure checks with EZShield® are a part of the overall Safeguard Secure platform and provide the highest level of defense and support! We also protect the order and delivery process, and provide fraud and identity restoration services. Contact your Safeguard consultant for details.
*2015 Association for Financial Professionals Payments Fraud and Control Survey.