Bindery & Finishing Services

Your consultant has ideas, answers, and can place your order now.
Bindery & Finishing Services
You can count on Safeguard's expertise and advice every step of the way. That includes making sure your printed material is bound and finished with complete attention to every detail.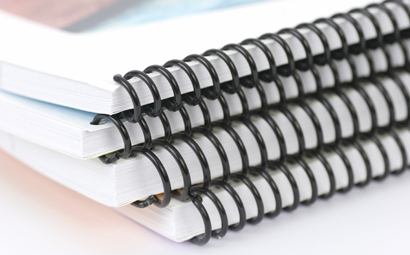 Stitching
Your Safeguard consultant can help you determine the best method for putting your project together, from saddle stitch or side stitch to perfect binding and more.
Spiral Binding
Great for reports, presentations and proposals. Plus, spiral spines are available in more colors and sizes than other binding types.
Wire-O Binding
An ideal solution for notebooks, instruction manuals and text books, Wire-O binding keeps documents flat when opened.
Folding
Safeguard can recommend and produce the right fold for your project — tri-fold, single or half, letter, "Z", roll, accordion, gate, double parallel, right angle and many more.
Die Cutting
Paper may start out square, but it doesn't have to stay that way. Creative die-cutting brings
customer-attracting shapes and construction to your printed materials.
Fugitive Gluing
Used to affix an object – your coupon, card, product sample, etc. – to another printed object, keeping them together but allowing for easy removal.